01.08.2022
Lawrence Tijjani receives Edfuturist's Staff Engagement and Training Award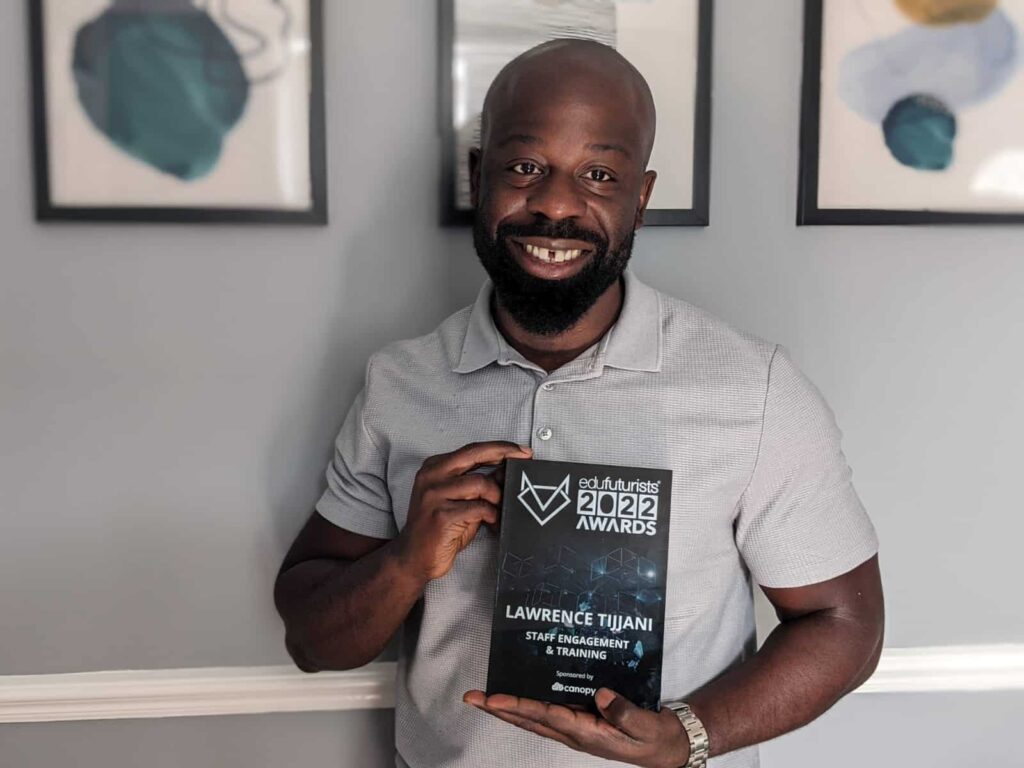 We're delighted to announce that the CEO of Happy2Host, Lawrence Tijjani has received the prestigious Edfuturist's Staff Engagement and Training Award 2022, after being nominated for his dedication and hardwork in the education sector by his peers.
Lawrence has successfully contributed towards the EdTech industry for over six years, and is making real strides to achieve his vision of empowering both educators and students to confidently use digital services. With a background in Computing teaching, he sees this as an essential way to support teaching and learning.
Many schools have benefited greatly from Lawrence's expertise both online and in person, which includes digital strategy planning with senior leaders, whole staff training, bespoke CPD for targeted staff, as well as support for those earning their technology related certifications. Feedback received demonstrates that Lawrence's high quality training and levels of engagement both during and after training, has been a powerful motivator for schools to transform their understanding and use of technology in the classroom. Furthermore, teachers often cite his simple, approachable and humorous manner as crucial for developing their confidence and skill set to truly appreciate how accessible technology could be in their contexts and with their students.
Thank everyone who took the time to vote for Lawrence, you demonstrated just how much he deserved this recognition. We are certainly looking forward to seeing what else he will do in the future.
Words from Lawrence:
"It is a real privilege to be recognised by my peers from such a well-respected and experienced judging panel. I am extremely honoured and proud to have won. This award is not only for me but for everyone in the Happy2Host team. The projects we lead on and the training we offer are always designed with the needs of the staff and the students they teach. A massive thank you to everyone who voted for me. Please watch this space, there is so much more to come from the Happy2host team, in particular through our commitment to making EdTech a more diverse and collaborative community."
Love our stories?
Subscribe to our newsletter to get more!